Sequedex classifies DNA sequences:
Who it came from and What it does
Analyzes collections of sequences in new ways, answering who is doing what? and bridging molecular to ecological scales of biology via evolution.
Extremely fast and resource-sparing. A single core of your laptop can be ~250,000X faster than BLAST and twice as fast as uploading your data to a cloud. Sequedex tames the data deluge that has been widely noted, bringing analysis costs back into line with sequencing costs without cloud security and outage issues.
Works for reads as short as 30 bp where other methods fail.  You don't have to distort your data through a non-linear filter like assembly just to get results. Linear and broad diagnostics enables ecological management strategies for tough problems.

Phylogenetic signature algorithm works for novel organisms, so you're not blind to microbes that aren't similar to those in genome databases. More sensitive to distant relationships than methods based on mapping methods.
We already built a Tree of Life for you, so your analysis doesn't have to wait on a team of bioinformaticians to finish their analysis first.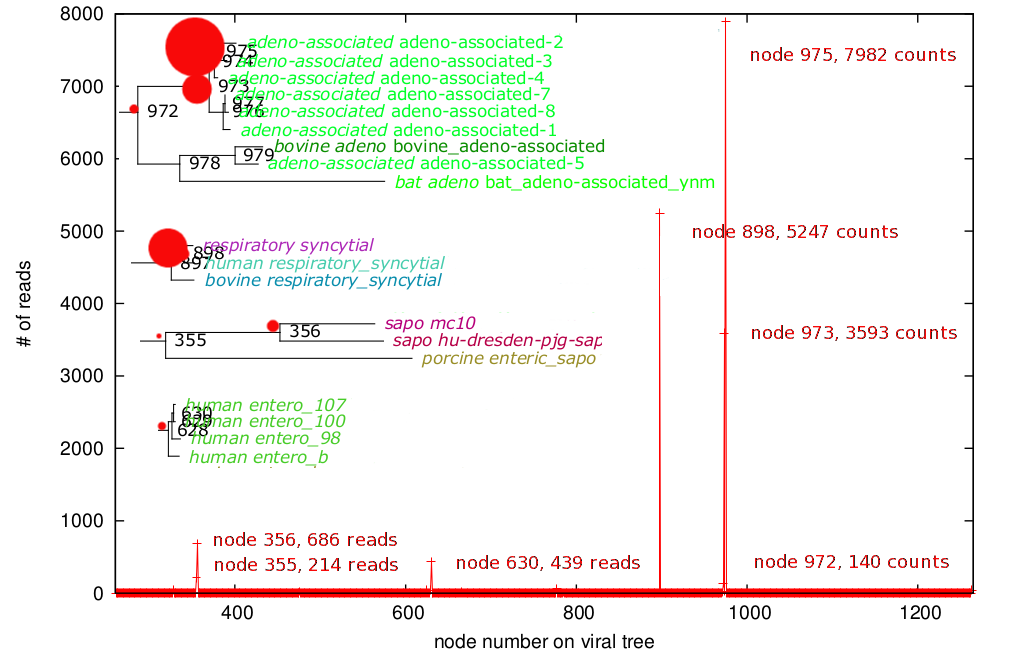 Who's there? A bunch of viruses! Viral metagenomes from a set of patients with diarrhea. It looks like the cause of their illness was an enterovirus. Data courtesy Dr. Charles Chiu, UCSF.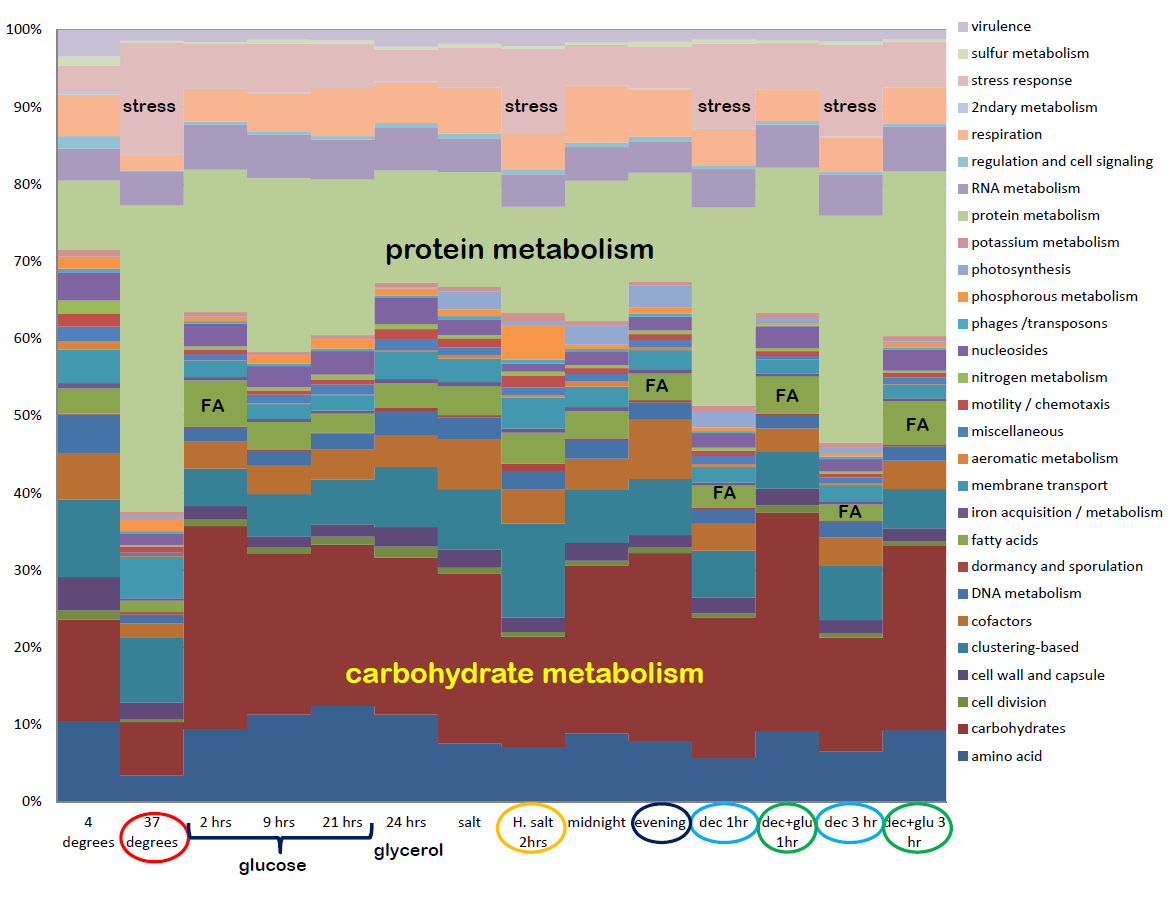 What are those algae doing? Sequedex output from a series of algal transcriptomes under various treatments. The organism under study here, Chlorella, has no reference genome or transcriptome. Data courtesy Dick Sayre, LANL.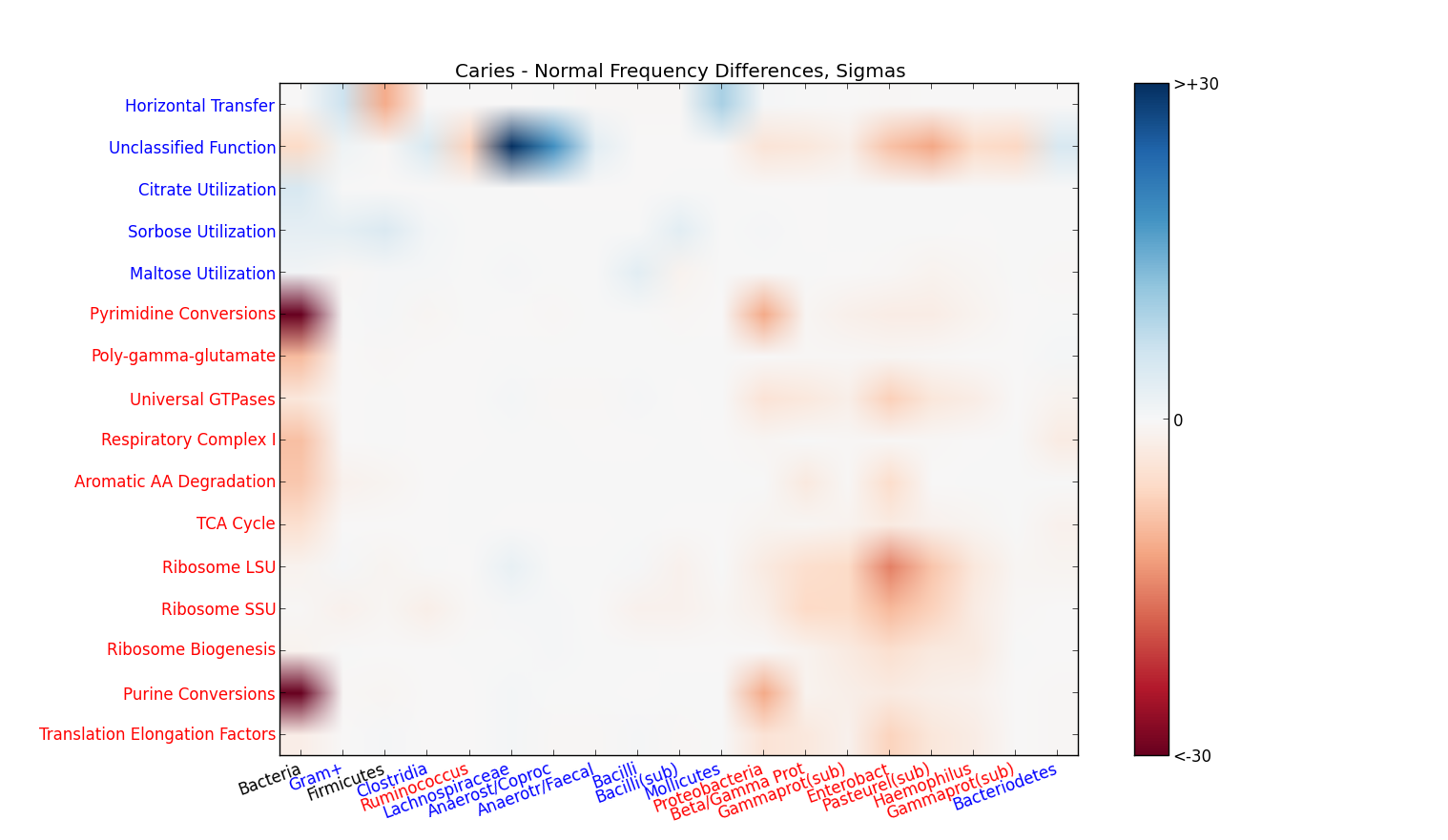 Complex communities, simple differences: People who have tooth decay show huge differences (>40 sigmas) in the frequency of genes that let bacteria live off sugars instead of nucleic acids.  Blue dots are increased in caries, red is decreased.
Potential applications for Sequedex exist anywhere analysis of biological sequences (bioinformatics) may be informative, including:
ID of infectious diseases whether arising from bacteria, parasites, or viruses (medical, public health, biodefense).
Characterizing gut, oral, and skin microbiomes of humans, livestock, and pets (medical, pharmaceutical, veterinary, consumer).
Metagenomics of soils, rivers, oceans, foods, and process environments. (ecology, manufacturing).
Transcriptome characterization (medical, pharmaceutical, agricultural, biofuels).
Enzyme mining (chemical manufacturing, biofuels).
Cancer genomics (medical, pharmaceutical).
Companion diagnostics (pharmaceutical, agricultural, consumer care).
A computer with a 64-bit operating system such as Mac Snow Leopard or later or Linux 2.6 or later. We are still working on Windows packaging at this time.
A 64-bit Java 1.6 run-time installed. Mac OS will automatically install this for you. Linux users should consult their system documentation or download Java from here.
1 GB of disk space is required for download, installation, and testing.
8 GB of RAM. However, Sequedex can deliver acceptable performance with as little asi 2 GB of RAM if your swap space is on a SSD.
A windowing environment even on server systems to run the licensing GUI.
Download a package for your operating system at right, then follow the instructions in the online documentation.
To test that Sequedex is installed properly, in the open Sequedex application window, click on file chooser icon at the right edge of the "Input" line.  Select the testData directory you installed earlier, then select one of the files under "synthetic".  Click "Run Sequescan".  A few lines should appear in the "Progress" portion of the interface immediately. Sequedex should return results indicating success within a few minutes.
You may obtain a free 60-day node-locked demo license by submtting a license information file by e-mail. A demo license will be returned to you immediately if one has not been granted for your e-mail or node ID before. Terms of the demo license are available here.

To create a license information file, start the Sequedex GUI and click on "Utilities->Request license".  Follow the instructions to generate a license information file.

Demo licenses are available for 60-day periods by e-mailing the license information file as an attachment to sequedex-demo-license@lanl.gov. A license file will be returned to you at the e-mail address you specified in the license information file.
One-year paid licenses are available at the special introductory rate of 1000 USD for academic users by contacting sequedex-license@lanl.gov.
Press inquiries should be directed to Nancy Ambrosiano by e-mail or by phone at +1.505.667.0471.
Business inquiries should be directed to Rob Dye at LANL's Technology Transfer Divison.
Windows packaging.
Add-on data modules for non-bacterial parts of the Tree of Life.
Output of a searchable database of classified reads.
Publishing open-source database writing code so you can roll your own if you want.
Ability to characterize biodiversity (alpha diversity) of a metagenome using signatures.
Ability to characterize divergence (beta diversity) among metagenomes using signatures.
Ability to characterize sequencer performance as a function of position along reads.
User-defined functional classifications.
More downstream analysis scripts in python and R.
FASTQ reading and writing, handling paired-end reads.
Metagenomic signature calculation. Overlap-based assembly.
Amino-acid input and output (proteomics).
Data sources:
Software useful with Sequedex: